The University of the West of Scotland, formerly the University of Paisley. UWS has 4 campuses in the heart of the west of Scotland in Paisley, Lanarkshire, Dumfries and Ayr and one campus in central London. These campuses house some of the UK higher education sector's most modern and sustainable learning and teaching facilities.
UWS has long-standing connections with business and industry, and our researchers are making a real difference, working with partner organizations on ¸innovative technologies to tackle issues critical to developing technology, improving lives and creating a more equal society in our regions and beyond.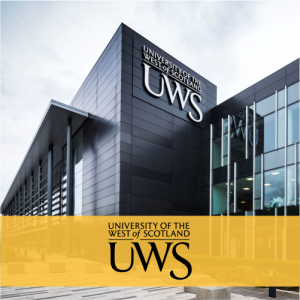 The 2019-20 session has been another period of tremendous achievement for UWS. The most notable event in 2019 was the official opening of our £110million Lanarkshire Campus by the First Minister of Scotland, the Rt. Hon. Nicola Sturgeon MSP. Our fantastic new campus took first prize in the Guardian University Awards 2020 in the "Sustainable Buildings that Inspire" category, testament to our commitment to creating a benchmark building for UK Higher Education. UWS is retained ranking as one of the top 150 universities under fifty years of age in Times Higher Education's Young University Rankings 2019, and were recognised by THE as being in their top 500 universities in their global university rankings 2020.
The University has 3500 international students, and 140 nationalities are represented across their student population.
UWS is a truly international university with origins dating back to 1897. Our degrees will give you a global outlook and prepare you for the best international opportunities available.
Moving overseas to study can seem like a daunting prospect, however, it offers a wealth of opportunities for personal and academic development, as well as shaping your future career.
Every year at the University of the West of Scotland, we welcome hundreds of international students into our vibrant and diverse academic community. We do everything we can to help them prepare for life at UWS as well as supporting them during their studies.
International students who study with us report an enriching and rewarding experience which they look back on with good memories.
Accounting & Finance (ACCA route) MSc
Adult Nursing MSc
Advanced Biomedical Science MSc
Advanced Clinical Practitioner MSc
Advanced Computer Systems Development MSc
Advanced Computing MSc
Advanced Thin Film Technologies MSc
Applied Social Science MSc
Big Data MSc
Biotechnology MSc
Broadcast Journalism MA
Career Guidance & Development PgDip
Chemical Engineering MSc
Childhood Practice Graduate Diploma
Childhood Practice BA (Hons)
Civil Engineering MSc
Contemporary Drug & Alcohol Studies MSc
Creative Media Practice MA
Cyber Security MSc
Digital Marketing MSc
e-Health MSc
Early Years MEd
Education Studies (full-time) MEd
Filmmaking MA
Finance & Accounting with CIMA MSc
Forensic Mental Health MSc
Gerontology with Dementia Care MSc
Health Studies MSc
Human Resource Management MSc
Information Technology MSc
International Management MSc
Internet of Things MSc
Leading People-centred Integrated Care MSc
Logistics & Supply Chain Management MSc
Master of Business Administration MBA
Master of Public Administration MPA
Master of Public Health MPH
Mechanical Engineering MSc
Mental Health Nursing MSc
Mental Health Practice MSc
Midwifery MSc
Mindfulness and Compassion MSc
Mobile Web Development MSc
Music (Songwriting/Sound Production/Industries) MA
Nursing MSc
Policy Analysis & Global Governance MSc
Project Management MSc
Project Management (International) MSc
Psychology MSc
Quality Management MSc
Quality Management (International) MSc
Social Work* MSc
Sport Coaching MSc
Sports Marketing & Promotion MSc
Teaching English to Speakers of other Languages (TESOL) MEd
Waste & Resource Management MSc
Accounting BAcc (Hons)
Adult Nursing BSc
Aircraft Engineering MEng (Hons) / BEng (Hons)
Applied Biomedical Science BSc (Hons)
Applied Bioscience BSc (Hons)
Applied Bioscience & Zoology BSc (Hons)
Applied Bioscience with Forensic Investigation BSc (Hons)
Biomedical Science BSc (Hons)
Broadcast Production: TV & Radio BA (Hons)
Business BA (Hons)
Business & Finance BA (Hons)
Business & Human Resource Management BA (Hons)
Business & Marketing BA (Hons)
Business Management (Graduate Apprenticeship) BA (Hons)
Business Technology BSc (Hons)
Chemical Engineering MEng (Hons) / BEng (Hons)
Chemistry BSc (Hons)
Chemistry with Education BSc (Hons)
Childhood Studies (2nd year entry) BA (Hons)
Civil Engineering BEng (Hons)
Civil Engineering (Graduate Apprenticeship) BEng (Hons)
Commercial Music BA (Hons)
Commercial Sound Production (3rd year entry) BA
Community Education BA (Hons)
Computer Animation Arts BSc (Hons)
Computer Games Development BSc (Hons)
Computer Games Technology (3rd year entry) BSc (Hons)
Computer Networking BSc (Hons)
Computer-Aided Design (3rd year entry) BSc (Hons)
Computing Science BSc (Hons)
Criminal Justice/ Criminal Justice (Policing) BA (Hons)
Cyber Security MEng (Hons) / BEng (Hons)
Education BA (Hons)
Engineering Design & Manufacture (Graduate Apprenticeship) BEng (Hons)
Engineering Management (3rd year entry) BEng (Hons)
English as a Second Language (3rd & 4th year entry) BA English as a Second Language (3rd & 4th year entry) BA
Environmental Health BSc (Hons)
Events Management BA (Hons)
Filmmaking & Screen Writing BA (Hons)
Forensic Science BSc (Hons)
Integrated Health & Social Care (2nd year entry) BA (Hons)
Integrated Health & Social Care with Administration (2nd year entry) BA (Hons)
IT: Software Development (Graduate Apprenticeship) BSc (Hons)
Journalism / Journalism (Sport) BA (Hons)
Law BA (Hons)
Legal studies BA (Hons)
Management BA (Hons)
Maternity Care Assistant CertHE
Mathematics with Education BSc (Hons)
Mechanical Engineering MEng (Hons) / BEng (Hons)
Mental Health Nursing BSc
Midwifery BSc
Music Technology BSc (Hons)
New Media Art (3rd Year Entry) BA (Hons)
Nursing Studies (3rd year entry) BSc (Hons)
Occupational Safety & Health BSc (Hons)
Operating Department Practice Diploma of Higher Education (Dip HE)
Paramedic Science BSC
Performance BA (Hons)
Physics BSc (Hons)
Physics with Education BSc (Hons)
Physics with Nuclear Technology BSc (Hons)
Professional Health Studies (3rd year entry) BSc (Hons)
Psychology BSc (Hons)
Social Sciences BA (Hons)
Social Work BA (Hons)
Society, Politics & Policy (3rd year entry) BA (Hons)
Sport & Exercise Science BSC (Hons)
Sport Coaching BSc (Hons)
Sport Development BSc (Hons)
Sports Coaching and Development BA (Hons)
Tourism Management BA (Hons)
Web & Mobile Development BSc (Hons)