The University of Stirling is a public university in Stirling, Scotland, founded by royal charter in 1967. It is located in the Central Belt of Scotland, built within the walled Airthrey Castle estate. The university campus is approximately 360 acres (1.5 km2) in size, incorporating the Stirling University Innovation Park and the Dementia Centre. The campus, with its wildlife, loch and mixture of native and exotic flora are located in the foothills of the Ochil Hills and is often cited as among the most beautiful in the UK. Stirling was the first new university to be established in Scotland for nearly 400 years. The original site of the campus was selected from a shortlist of competing sites, which include Falkirk, Perth and Inverness. The University campus is set within 330 acres (1.3 km2) of grounds beneath the Ochil Hills, 2 miles (3.2 km) from the centre of Stirling, close to the town of Bridge of Allan. It is regularly described as one of the most beautiful campuses in the world and was ranked 1st in the UK for its campus environment in the International Student Barometer 2019.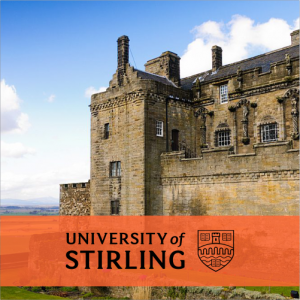 The University of Stirling's world-leading Institute of Aquaculture has been awarded the UK's most prestigious academic honour: the Queen's Anniversary Prize. As part of the QS World University Rankings 2020, the University of Stirling was awarded 5 stars in the areas of teaching and employability. Students gave us a 96% satisfaction rate for lecturer expertise (International Student Barometer 2020).
20% of our students are from overseas Our inclusive, multi-cultural environment offers you a welcoming and supportive space for you to learn. Join the University of Stirling and we'll prepare you for a lifetime of achievement at one of the top 150 most international universities in the world (Times Higher Education World University Rankings 2020).
All our courses strive to improve your employable skills, as well as giving you an internationally recognised qualification. We're committed to equipping you with life-long career management skills. Many of our courses offer hands-on experience and unique opportunities to work with industries across the globe.
We're a globally connected University. Almost three-quarters of our research activity is rated either world-leading or internationally excellent (Research Excellence Framework (REF) 2019).
MSc Advancing Practice
MSc Applied Professional Studies
MSc Applied Social Research
MSc Applied Social Research (Social Statistics and Social Research)
MSc Aquatic Pathobiology
MSc Aquatic Veterinary Studies
MSc Artificial Intelligence
MSc Banking and Finance
MSc Behavioural Decision Making for Finance
MSc Behavioural Science for Management
MSc Big Data
MSc Business Analytics
MSc Business and Management
MRes Business and Management
MLitt Creative Writing
MSc Criminological Research
MSc Criminology
MSc Data Science for Business
MSc Digital Media and Communication
MSc Disaster Interventions and Humanitarian Aid
MSc Early Years Practice Health Visiting
MSc Earth and Planetary Observation
MSc Educational Leadership (Specialist Qualification for Headship)
MRes Educational Research
MSc English Language and Linguistics
MSc Environmental Management
MSc Environmental Management (Conservation)
MSc Environmental Management (Energy)
MSc Factual Television
MSc Finance
MSc Finance and Data Analytics
MSc Finance and Economics
MSc Finance and Investment
MSc Finance and Risk Management
MSc Financial Technology (FinTech)
MLitt, MSc Gender Studies (Applied)
MSc Health Psychology
MRes Health Research
MSc Heritage.
MSc / MA Human Animal Interaction
MSc Human Resource Management
MSc Human Rights and Diplomacy
MSc International Accounting and Finance
MSc International Business
MSc International Conflict and Cooperation
LLM International Energy and Environmental Law
MSc International Journalism
MSc Investment Analysis
MSc Management and English Language Teaching
MSc Marketing
MSc Marketing Analytics
MSc Marketing and Brand Management
Master of Business Administration (MBA)
MSc Mathematics and Data Science
MSc Media Management
MSc Multichannel Retail Marketing
MSc Professional Education and Leadership
MSc Psychological Research Methods
MSc Psychological Therapy in Primary Care
MSc Psychology (accredited conversion course)
MPP Public Policy
MSc Social Enterprise
MSc Social Work Studies
MSc Sport Management
MSc Sport Nutrition
MSc Strategic Public Relations and Communication Management
MSc Strategic Sustainable Business
MSc Substance Use
MSc Sustainable Aquaculture
MSc Teaching English to Speakers of Other Languages (TESOL)
MSc Teaching English to Speakers of Other Languages (TESOL) (Online)
MSc Translation and Conference Interpreting
BAcc (Hons) Accountancy
BAcc (Hons) Accountancy and Finance
BSc (Hons) Animal Biology
BSc (Hons) Applied Biological Sciences – 8C93
BSc (Hons) Applied Mathematics – G120
BSc (Hons) Aquaculture – C163, C164
BSc (Hons) Biology – C100
BSc (Hons) Business Computing – G510
BA (Hons) Business Studies – N100
BSc (Hons) Cell Biology – C130
BSc (Hons) Computing Science – G400
BSc (Hons) Conservation Biology and Management – CD14
BA (Hons) Criminology and Social Policy
BA (Hons) Criminology and Sociology – LM39
BSc (Hons) Data Science – G700
BA (Hons) Digital Media – W2N9
BSc (Hons) Ecology – C180
BA (Hons) Economics
BA (Hons) / BSc (Hons) Education (Primary)
BA (Hons) / BSc (Hons) Education (Secondary)
BA (Hons) English Studies – Q300
BSc (Hons) Environmental Geography and Outdoor Education – Y21C
BSc (Hons) Environmental Science
BSc (Hons) Environmental Science and Outdoor Education – FX99
BA (Hons) Events Management – N8U7
BA (Hons) Film and Media – P300
BA (Hons) Finance – N300
BA (Hons) French – R120
BSc (Hons) Geography – Environmental Geography – FL97
BSc (Hons) Graduate Apprenticeship in Data Science
BA (Hons) Heritage and Tourism – 8V74
BA (Hons) History – V100
BA (Hons) Human Resource Management – N600
BA (Hons) International Management Studies with European Languages and Society – N2R9
BA (Hons) Journalism Studies – P500
BA (Hons) Law – M110
LLB (Hons) Law – M114
LLB Law: Accelerated Graduate – M115
BSc (Hons) Management – N200
BSc (Hons) Marine Biology – C160.
BA (Hons) Marketing – N500
BSc (Hons) Mathematics – G100
BA (Hons) Modern Languages
BSc Nursing – Adult – B740
BSc Nursing – Mental Health – B760
BSc (Hons) Nursing – Mental Health – B770
BSc (Hons) Nursing – Adult – B750
BSc Paramedic Science – B780
BA (Hons) Philosophy – V500
BA (Hons) Politics – L200
BA (Hons) Politics (International) – L240
BA (Hons) Politics, Philosophy and Economics – L0V0
BA (Hons) Professional Accountancy – N402
BA (Hons) / BSc (Hons) Psychology – C801 (BA), C800 (BSc)
BA (Hons) Religion
BA (Hons) Retail Marketing – N550
BA (Hons) Scottish History – V211
BA (Hons) Social Work – L500
BA (Hons) Sociology and Social Policy – L431
BSc (Hons) Software Development with Cyber Security
BSc (Hons) Software Engineering – G600
BA (Hons) Spanish and Latin American Studies – R410
BSc (Hons) Sport and Exercise Science – CC61
BA (Hons) Sport Business Management – N8U6
BA (Hons) Sports Studies – C600