The University of Glasgow was founded in 1451 by a charter or papal bull from Pope Nicholas V, at the suggestion of King James II, giving Bishop William Turnbull, a graduate of the University of St Andrews, permission to add a university to the city's Cathedral. It is the second-oldest university in Scotland after St Andrews and the fourth oldest in the English-speaking world. The universities of St Andrews, Glasgow and Aberdeen were ecclesiastical foundations, while Edinburgh was a civic foundation. As one of the ancient universities of the United Kingdom, Glasgow is one of only eight institutions to award undergraduate master's degrees in certain disciplines. Scotland is famous for its beautiful scenery, and Glasgow offers a perfect location for getting out and exploring the countryside. Whether it's the Highlands with its mountains and lochs (the Scottish word for 'lakes') or islands with castles and beaches, you'll be amazed by all of the beautiful landscapes.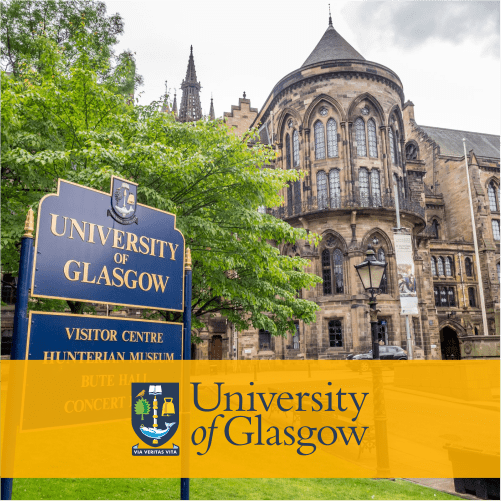 The University of Glasgow is a world top 100 university (THE, QS), with one of the widest range of courses in the UK. The University's international community of over 28,000 students (from over 140 countries) are actively encouraged to spend study time overseas.
The University's undergraduate honours degrees in arts, social sciences and science offer the flexibility to study several subjects before choosing a specialism. Their taught Masters programmes follow a set structure, usually over 12 months.
Their graduates are highly sought after both in the UK and overseas. 95.9% of students are in employment or further study within 6 months of graduation.
‌Students from Pakistan have been coming to study at the University of Glasgow for many decades. The city of Glasgow is fortunate to have one of the largest Pakistani communities in the UK so you will have the option to mix with people from your country, as well as enjoying the renowned warmth and hospitality of Glaswegians. The University works with the Higher Education Commission (HEC) to receive scholars from institutions across Pakistan with whom the University of Glasgow has a valid MoU. Qualified scholars are eligible to receive a 20% reduction in tuition fees under these arrangements.*
We also have an active Muslim student society. The Glasgow University Muslim Students Association (GUMSA) is open to helping you with any enquiries relating to your Muslim faith prior to arriving in Glasgow and once you're here.
*Students must demonstrate they are an HEC scholar from a partner institution prior to or at Registration to be eligible for this discount. Discounts will not be awarded retroactively. Awards are made at the University's discretion.
3d Design for virtual environments £13,500
Accounting Finance & Regulation £13,500
Advanced Internetwork Engineering £13,500
Advanced District Nursing Practice with Specialist practitioner qualification £13,500
Applied Instrumentation & control £13,500
Applied Professional Practice
Applied Professional Railway Operations
Applied Professional Security Operations
ACCA
Big Data Technologies £13,500
Biological Sciences
Biomedical Science £17,500
Climate Justice £13,500
Counselling Psychology £13,500
Cyber Security £13,500
Diabetes, Care & Management £13,500
Diagnostic Imaging £14,500
Doctor of Physiotherapy £15,500
Doctor of Business Administration £24,000
Electrical Power Engineering £13,500
Electrical & Electronic Engineering £13,500
Environmental Management (waste, energy, water, oil & gas) £13,500
Fashion Business Creation £13,500
Fashion & Lifestyle Marketing £13,500
Forensic Psychology £13,500
Global MBA £14,500
Global Marketing £14,500
Graduate Apprenticeship cyber security
Health History
Health Psychology £13,500
Human Resource Management £13,500
Impact focused Business & Investing
Insurance & Sustainable Risk Management £14,500
International Banking Finance & Risk Management £13,500
International Business Management £13,500
International Construction Project Management £13,500
International Economic & Social Justice £13,500
International Fashion Marketing £13,500
International Human Resource Management £14,500
International Management & Business Development £13,500
International Operations & Supply Chain Management £13,500
International Project Management £13,500
International Tourism & Events Management £13,500
Investigative Ophthalmology & Vision Research £13,500
Luxury Brand Management £17,300
Luxury Brand Marketing £13,500
Master of Public Health £13,500
Master of Research
Mechanical Engineering £13,500
Medical Bioscience
Medical Ultrasound
Multimedia Journalism £13,500
Nursing Studies £13,500
Nursing Advanced Professional Practice £13,500
Occupational Therapy £15,500
Physiotherapy £15,500
Quantity Surveying £13,500
Risk Management £13,500
Risk, Resilience & Integrity Management £13,500
Social Innovation £13,500
Social Work £13,500
Specialist & Community Public Health Nursing n/a
Sports & Exercise Psychology £13,500
Television Fiction Writing £14,500
Theory of Podiatric Surgery
Bachelors of laws £12,250
Bachelors of laws (Fast Track) £12,250
Accountancy £12,250
Accountancy (Year 3 entry) £12,250
Accountancy (Pathway) £1,820
Finance, Investment & Risk £12,250
Finance, Investment & Risk (year 3 entry) £12,250
Finance, Investment & Risk (pathway) £1,820
Risk Management £12,250
Risk Management (Pathway) £1,820
Risk Management (year 3 entry) £12,250
Fashion design with business £12,250
International Events Management £12,250
International Fashion Branding £12,250
International Fashion Branding (year 3 entry) £12,250
International Fashion Business £12,250
International Fashion Business (year 3 entry) £12,250
International Tourism and Events Management £12,250
International Tourism & Events Management (Pathway) £19,350
Building Surveying £12,250
Building Surveying (Pathway) £1,820
Construction Management£12,250
Construction Management (Pathway) £1,820
Graduate Apprenticeship Construction & Built Environment (Quantity Surveying) £12,250
Quantity Surveying £12,250
Quantity Surveying Pathway £12,250
Cyber Security & Networks £12,250
Computer Networking (year 3 entry) £12,250
Cyber security and networks (pathways) £1,820
Digital Security & Forensics £12,250
Graduate Apprenticeship Cyber Security £12,250
Audio Technology £12,250
Electrical Power Engineering £12,250
Electrical Power Engineering Pathway £1,820
Graduate Apprenticeship Engineering (Design) £12,250
Graduate Apprenticeship Engineering (Manufacture) £12,250
Mechanical Engineering £12,250
Computer Aided Mechanical Engineering £12,250
Computer Aided Mechanical Engineering Pathway £12,250
Graduate Apprenticeship Engineering Design £12,250
Graduate Apprenticeship Engineering (Communication) £12,250
Mechanical Systems Engineering £12,250
Applied Biomedical Science £12,250
Biological Sciences
Cell & Molecular Biology £12,250
Food Bioscience £12,250
Food Bioscience Pathway £12,250
Food Science £12,250
Microbiology £12,250
Pharmacology£12,250
Pharmacology Pathway £1,820
Nursing Studies £12,250
Professional Studies in Nursing £12,250
Human Nutrition & Dietetics £12,250
Occupational Therapy £12,250
Paramedic Science £12,250
Physiotherapy £12,250
Applied Psychology £12,250
COSCA Counselling Skills
Social Work £19,350
Ophthalmic Dispensing Management £12,250
Optometry £12,250
Orthoptics £12,250
3D animation & visualization £19,350
3D animation & visualization (year 3 entry) £12,250
Computer Games£12,250
Digital Design£12,250
Forensic Investigation £12,250
Building Services Engineering £12,250
Environmental Civil Engineering £12,250
Environmental Management £12,250
Graduate Apprenticeship Civil Engineering£12,250
Computing £12,250
Graduate Apprenticeship software development for business £12,250
Software Development for Business £12,250
Business Management £12,250
Business Management (year 3 entry) £12,250
Graduate Apprenticeship Business Management £12,250
International Business £12,250
International Business Year 3 entry £12,250
International Business & Human Resource Management
International Business & Human Resource Management Pathway £12,250
International Business & Tourism Management (Year 3 entry) £12,250
International Business with Languages £12,250
International Supply Chain Management £12,250
Media & Communication
Media & Communication Year 3 entry £12,250
Multimedia Journalism
Multimedia Journalism year 3 entry £12,250
Social Work/ Social Sciences £12,250