Founded in 1821, Heriot-Watt has a rich heritage and is valued for its pioneering research informed by the global needs of business and industry. Our campuses in Edinburgh, Scottish Borders and Orkney each offer bespoke facilities and a distinctive learning environment. Heriot-Watt University is a public research university based in Edinburgh, Scotland. It was established in 1821 as the School of Arts of Edinburgh, the world's first mechanics' institute, and subsequently granted university status by royal charter in 1966. It is the eighth oldest higher education institute in UK. The capital of Scotland is a great place to live and study, with a wide range of theatres, galleries, clubs and shops to explore, not to mention the plethora of arty bars and cafes.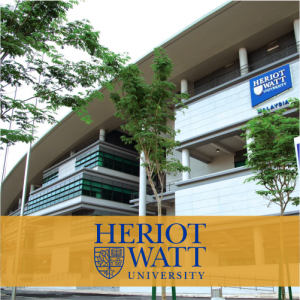 Heriot Watt is ranked in the top 60 of Golden Age Universities in the world.-THE Golden Age University Rankings 2020
Herriot Watt is ranked in the top 10 universities in the UK and 1st in Scotland for research impact.-Research Excellence Framework 2019
Heriot Watt is ranked top in Scotland and 17th in the UK for graduate salaries six months after graduation.-The Times / The Sunday Times Good University Guide 2019
Heriot–Watt University is ranked 301 in QS World University Rankings by TopUniversities and has an overall score of 4.4 stars, according to student reviews on Study portals, the best place to find out how students rate their study and living experience at universities from all over the world.
Heriot-Watt is a key institution in a major international city, making an important contribution to Edinburgh's world reputation for education, business and research.
Studying with us will allow you to realise the benefits of living in this world class city while also giving you easy access to all that Scotland has to offer: great hospitality, stunning scenery, and a rich cultural heritage.
On campus you'll find one third of our 9,000 students are from countries outside the UK, bringing a real international flavour to our community. Along with our Scottish students, you will share your academic and social life with people from over 150 countries, giving you a great opportunity to learn about other cultures and build friendships that stretch across the globe.
Actuarial Management MSc
Actuarial Management with Data Science MSc
Actuarial Science MSc
Actuarial Science and Management MSc
Advanced Mechanical Engineering MSc
Advanced Mechanical Engineering with Industrial Application MSc
Advanced Structural Engineering MSc
Advanced Structural Engineering MSc
Applied Mathematical Sciences MSc
Applied Mathematical Sciences (2 years) MSc
Applied Mathematical Sciences with Climate Change Modelling MSc
Applied Petroleum Geoscience MSc
Applied Petroleum Geoscience MSc
Artificial Intelligence MSc
Artificial Intelligence (2 years) MSc
Artificial Intelligence with Speech and Multimodal Interaction MSc
Brewing and Distilling MSc
Brewing and Distilling by Distance Learning MSc
Brewing and Distilling with Entrepreneurship MSc
Building Services Engineering MSc
Business Analytics and Consultancy MSc
Business Information Management MSc
Business Psychology MSc
Business Psychology with Human Resource Management MSc
Business Psychology with Intercultural Communication MSc
Business Strategy, Leadership and Change MSc
Edinburgh Business School
Chinese – English Interpreting and Translating (2 Years) MSc
Chinese – English Translating (2 Years) MSc
Civil Engineering MSc
Civil Engineering and Construction Management MSc
Civil Engineering and Construction Management MSc
Civil Engineering with Industry Placement (2 years) MSc
Commercial Management and Quantity Surveying MSc
Computational Mathematics MSc
Computer Systems Management MSc
Computing (2 years) MSc
Construction Project Management MSc
Construction Project Management with Industry Placement (2 year) MSc
Cultural Heritage Management with Tourism MSc
Data Science MSc
Data Science (2 years) MSc
Design Management MSc
Digital Design and Innovation MA
Digital Marketing MSc
Economics, Banking and Finance MSc
Energy MSc
Energy and Economics MSc
Executive MBA
Fashion and Textiles Design MA
Fashion and Textiles Management MSc
Finance MSc
Finance and Management MSc
Financial Mathematics MSc
Games Design and Development MDes
Global Environmental Change and Sustainability MSc
Human Robot Interaction MSc
Human Robot Interaction (2 years) MSc
Information Technology (Business) MSc
Information Technology (Software Systems) MSc
Interior Architecture and Design MA
International Accounting and Finance MSc
International Banking and Finance MSc
International Business Management MSc
International Business Management with Finance MSc
International Business Management with HRM MSc
International Business Management with Logistics MSc
International Business Management with Marketing MSc
International Business Management with Performance Management MSc
International Business Management with Project Management MSc
International Business Management with Sustainability MSc
International Business Management with Tourism MSc
International Fashion Marketing MSc
International Finance and Corporate Accountability MSc
International Finance and Economic Development MSc
International Management and Business Communication MSc
International Management and Business Communication with Marketing MSc
International Marine Science MSc
International Marketing MSc
International Marketing with Consumer Psychology MSc
International Marketing with Digital Marketing MSc
International Master in Industrial Management (IMIM) MSc
Interpreting MSc
Interpreting and Translating MSc
Investment Management MSc
Logistics and Supply Chain Management MSc
Logistics and Supply Chain Management with Business Analytics MSc
Logistics with Green and Sustainable Supply Chain Management MSc
Marine Biodiversity and Biotechnology MSc
Marine Renewable Energy MSc
Marine Renewable Energy MSc
Master of Business Administration MBA
Mathematical Biology, Ecology and Medicine MSc
Mathematics MSc
Mature Field Management MSc
MBA with Specialism in Oil and Gas Management MBA
MBA with Specialism in Strategic Planning MBA
Network Security MSc
Operations Management MSc
Petroleum Engineering MSc
Quantitative Finance and Mathematics MSc
Real Estate and Planning MSc
Real Estate Investment and Finance MSc
Real Estate Management and Development MSc
Renewable Energy Development (RED) MSc
Renewable Energy Development (RED) MSc
Renewable Energy Engineering MSc
Reservoir Evaluation and Management MSc
Safety and Risk Management MSc
Safety, Risk and Reliability Engineering MSc
Sign Language Interpreting (EUMASLI) MSc
Smart Systems Integration (Erasmus Mundus) MSc
Software Engineering MSc
Strategic Project Management MSc
Subsurface Energy Systems MSc
Sustainable Urban Management MSc
Translating MSc
Translating for Business MSc
Translating for Business with Entrepreneurship MSc
Translating with Entrepreneurship MSc
Urban and Regional Planning MSc
Urban and Regional Planning MSc
Urban Strategies and Design MSc
Actuarial Science
Actuarial Science and Diploma in Industrial Training
Architectural Engineering
Associate Student in Chemical Engineering
Associate Student in Electrical Engineering
Associate Student in Mechanical Engineering
Bachelor of Business Administration
Biological Sciences
Biological Sciences (Cell and Molecular Biology)
Biological Sciences (Human Health)
Brewing and Distilling
Business Management
Chemical Engineering
Chemistry
Civil Engineering
Combined Studies
Communication Design
Computer Science
Computer Science (Artificial Intelligence)
Computer Science (Cyber Security)
Computer Science (Data Science)
Computer Science (Data Science) and Diploma in Industrial Training
Computer Science (Games Programming)
Computer Science (Software Engineering)
Computer Science and Diploma in Industrial Training
Computer Systems
Computer Systems (Games Programming)
Computer Systems and Diploma in Industrial Training
Computing and Electronics
Construction and the Built Environment
Construction Project Management
Data Sciences
Design for Textiles (Fashion, Interior, Art)
Electrical and Electronic Engineering
Engineering
Engineering Design and Manufacture (Electronic or Mechanical)
Fashion
Fashion Branding and Promotion
Fashion Technology
Financial Mathematics
Geography
Information Systems
Information Systems (Interaction Design)
Information Systems (Internet Systems)
Information Systems (Management)
Information Systems and Diploma in Industrial Training
Instrumentation Measurement and Control
Interior Design
Marine Biology
Mathematical, Statistical and Actuarial Sciences
Mathematics
Mathematics with Computer Science
Mathematics with Finance
Mathematics with Finance and Diploma in Industrial Training
Mathematics with Physics
Mathematics with Statistics
Mechanical Engineering
Physics
Psychology
Psychology with Management
Quantity Surveying
Robotics, Autonomous and Interactive Systems
Software Development for Business
Statistical Data Science
Structural Engineering
Urban Planning and Property Development