GCU are proud to have ten programmes achieving 100% overall satisfaction amongst their students (NSS, 2019), with a further 25 programmes with 90% or over. This is teamed being in the Complete University Guide Top 10 UK subject areas and Guardian University Guide Top 5 subject areas in the UK.
World-class Facilities
With a new campus, in the heart of Glasgow city Centre – one of the friendliest cities in the world – GCU are proud to offer students a host of world-class facilities, from their inter-professional simulation centre, Eye Clinic and Physio Clinic, to their Cyber Security Clinic and green rooms – not to mention their mock court, Law Clinic and broadcasting facilities. Their students also have access to almost 100 different student societies covering a wide range of activities, hobbies and sports and are proud to be winners of the 2019 Student Engagement Awards for recognising cultural diversity and embedding intercultural skills in the curriculum – being a student here really is a great experience.
GCU has an award winning campus and a wide range of industry links in the private, public and third sectors, helping to ensure that 95% of graduates are in employment or further study within 6 months of graduation.
GCU has a wide variety of programmes on offer, from undergraduate to postgraduate and research, which are designed to shape your future and help you have an impact on some of the many global challenges of our time. Plus, you'll find the university to be a friendly, welcoming and fun place to spend your student years.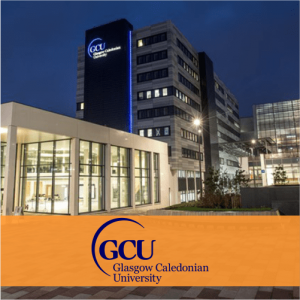 Ranked amongst the top 50 universities in the world for social impact and the top 15 for gender equality and reducing inequalities (THE, 2019).
95% of graduates are in employment or further study within 6 months of graduation (HESA, 2018).
Ranked in the Times Higher Education Young University Rankings 2019 which list the world's best universities that are aged 50 years or under.
Top 10 in the UK for social work and social policy impact and top 20 in the UK for built environment research impact (REF, 2014).
Athena Swan Bronze Award in recognition of our commitment to promoting gender equality.
1st foreign higher education institution to be given degree granting authority in the State of New York.
Campuses in Glasgow, London and New York
Main campus located in Glasgow, eighth Best City in the World (Timeout 2019)
Affordable tuition fees from £12,250 with Pakistan specific scholarship and discounts available for September 20 and January 21 intake
A student population of 21,000, including 5,000 international students based in Glasgow, London, New York and at their international partnerships (HESA, 2018).
95% of GCU graduates find work or further study within six months of graduation (HESA, Destinations of Leavers from Higher Education, 2018)
96% of international students are happy with their life at GCU (ISB, 2018) and 81% of undergraduate students happy with the quality of their course (NSS, 2019).
Popular areas of study include public health, electrical and electronic engineering, computing, MBA, business management, physiotherapy
One year placement in UG Risk Management and International Business
3d Design for virtual environments
Accounting Finance & Regulation
Advanced Internetwork Engineering
Advanced District Nursing Practice with Specialist practitioner qualification
Applied Instrumentation & control
Applied Professional Practice
Applied Professional Railway Operations
Applied Professional Security Operations
ACCA
Big Data Technologies
Biological Sciences
Biomedical Science
Climate Justice
Counselling Psychology
Cyber Security
Diabetes, Care & Management
Diagnostic Imaging
Doctor of Physiotherapy
Doctor of Business Administration
Electrical Power Engineering
Electrical & Electronic Engineering
Environmental Management (waste, energy, water, oil & gas)
Fashion Business Creation
Fashion & Lifestyle Marketing
Forensic Psychology
Global MBA
Global Marketing
Graduate Apprenticeship cyber security
Health History
Health Psychology
Human Resource Management
Impact focused Business & Investing
Insurance & Sustainable Risk Management
International Banking Finance & Risk Management
International Business Management
International Construction Project Management
International Economic & Social Justice
International Fashion Marketing
International Human Resource Management
International Management & Business Development
International Operations & Supply Chain Management
International Project Management
International Tourism & Events Management
Investigative Ophthalmology & Vision Research
Luxury Brand Management
Luxury Brand Marketing
Master of Public Health
Master of Research
Mechanical Engineering
Medical Bioscience
Medical Ultrasound
Multimedia Journalism
Nursing Studies
Nursing Advanced Professional Practice
Occupational Therapy
Physiotherapy
Quantity Surveying
Risk Management
Risk, Resilience & Integrity Management
Social Innovation
Social Work
Specialist & Community Public Health Nursing
Sports & Exercise Psychology
Television Fiction Writing
Theory of Podiatric Surgery
Bachelors of laws
Bachelors of laws (Fast Track)
Accountancy
Accountancy (Year 3 entry)
Accountancy (Pathway)
Finance, Investment & Risk
Finance, Investment & Risk (year 3 entry)
Finance, Investment & Risk (pathway)
Risk Management
Risk Management (Pathway)
Risk Management (year 3 entry)
Fashion design with business
International Events Management
International Fashion Branding
International Fashion Branding (year 3 entry)
International Fashion Business
International Fashion Business (year 3 entry)
International Tourism and Events Management
International Tourism & Events Management (Pathway)
Building Surveying
Building Surveying (Pathway)
Construction Management
Construction Management (Pathway)
Graduate Apprenticeship Construction & Built Environment (Quantity Surveying)
Quantity Surveying
Quantity Surveying Pathway
Cyber Security & Networks
Computer Networking (year 3 entry)
Cyber security and networks (pathways)
Digital Security & Forensics
Graduate Apprenticeship Cyber Security
Audio Technology
Electrical Power Engineering
Electrical Power Engineering Pathway
Graduate Apprenticeship Engineering (Design)
Graduate Apprenticeship Engineering (Manufacture)
Mechanical Engineering
Computer Aided Mechanical Engineering
Computer Aided Mechanical Engineering Pathway
Graduate Apprenticeship Engineering Design
Graduate Apprenticeship Engineering (Communication)
Mechanical Systems Engineering
Applied Biomedical Science
Biological Sciences
Cell & Molecular Biology
Food Bioscience
Food Bioscience Pathway
Food Science
Microbiology
Pharmacology
Pharmacology Pathway
Nursing Studies
Professional Studies in Nursing
Human Nutrition & Dietetics
Occupational Therapy
Paramedic Science
Physiotherapy
Applied Psychology
COSCA Counselling Skills
Social Work
Ophthalmic Dispensing Management
Optometry
Orthoptics
3D animation & visualization